Gig axed after Fergie falls ill onstage
10-11-2007, 03:51 PM
Gig axed after Fergie falls ill onstage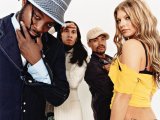 The Black Eyed Peas were forced to axe a concert half-way through after singer Fergie said she was ill with food-poisoning.
The 32-year-old ran off the stage in El Salvador before the group informed the crowd that the show would be cancelled.
The band is in Mexico and Central America as part of its Monkey Business tour.
Organiser Two Show said the gig will be rescheduled within 90 days, and offered refunds to the 10,000-strong crowd.
Tech support courtesy of
Budget Web Design
Powered By
MyBB
, © 2002-2018
MyBB Group
.