Kylie axes shocking documentary scenes
09-30-2007, 08:07 PM
Kylie axes shocking documentary scenes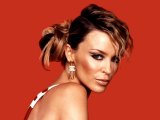 Kylie Minogue has axed shocking scenes from her forthcoming TV documentary, according to a report today.
The Australian singer was filmed by her close friend William Baker for White Diamond, which follows her pop comeback after beating breast cancer.
However, footage of Kylie getting angry with her then-boyfriend Olivier Martinez before going on stage for one of her Showgirl Homecoming concerts has been removed. A revealing costume change scene has also been banned.
A source told the News of the World: "Kylie wanted a warts-and-all documentary, but there are loads of scenes fans will never see because they don't fit in with the image she likes to project.
"In one of the cut scenes Kylie's boobs are on display as she gets undressed. No scarring is visible because she had clever reconstructive surgery after the partial mastectomy to remove her cancer. But she was extremely unhappy about its inclusion in the final edit so it got chopped."
The insider added: "There was a scene where she was on the phone to Olivier saying, very emotionally, 'You said you were coming', before breaking down in tears. In another part she's talking about Olivier and gets angry and starts shouting about him letting her down."
09-30-2007, 11:23 PM
Shy guy
Posting Guru


Posts: 1,559
Joined: Aug 2007
Re: Kylie axes shocking documentary scenes
Managing one's image is perfectly normal human behaviour, if she didn't it would be more shocking... As for not wanting to exposing her body in public after a partial mastectomy or reveal the fact she argues with her boyfriend, I think that is quite understandable too. What would be a shock is if the News of the World actually published something newsworthy... stongue
---
Why do dogs bark?
They are not barking, they are talking in dog. Obviously you don't understand the language.
10-01-2007, 12:49 AM
Re: Kylie axes shocking documentary scenes
Shy guy Wrote:What would be a shock is if the News of the World actually published something newsworthy... stongue
Then nobody would want to read it :lol: