09-30-2007, 08:12 PM
PS2: 'FIFA 08'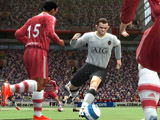 Also Available On: PS3, Xbox 360, PSP, Wii and PC
Publisher: EA Sports
Age Rating: 3+
EA Sports kick off this year's multi-format release of their legendary soccer series with the trusty old PlayStation 2, a platform that is widely regarded as the home of the FIFA franchise.
A mammoth list of licenses ensures all the main teams are built into this latest title, from Hartlepool to Beckham's own LA Galaxy, with Wayne Rooney even signed up as the front cover star.
While next-generation versions have the edge from a visual perspective, this PS2 version, which was developed by a separate team from the other formats, is more advanced from a gameplay point of view.
The aging Sony console offers a football game with fast-paced, end-to-end play as well as feel-good tackling, responsive players and team-mates that help the flow by running into a space ready for that critical pass.
Unlike the next-gen versions of FIFA 08, which lack the responsiveness of this release, what the PS2 developer has done is essentially take all the best bits from the acclaimed Pro Evolution Soccer and added them to the finest elements from the EA Sports series to make a title that puts FIFA firmly back on the videogame soccer map.
Thanks to a new manual through-ball feature, gamers can now pull off the perfect pass using skill and good management, and progressive, exciting and free-floating football is what this version of the game excels at.
FIFA 08 now allows players to take control of the goalie by simply pressing the right stick, while the triangle button sees the goalie dive for the ball. This option offers more control over your team, but, having played the series for sometime without this feature, it does feel a little odd at first.
Scoring past the computer-controlled goalkeepers is difficult as they seem to be able to catch just about anything. But with a fast-paced corner or a sneaky header you'll find they are beatable. Just!
One of the main upgrades to this year's game is the Be A Pro mode, which sees up to three people – each one controlling a single footballer – play in a team as they work to co-operate with each other on the pitch while battling against the opposition. This feature works well and is a lovely way of team-building – employers take note.
Zone Play is another new addition, which sees up to three players take control of defence, midfield and attack in a game that is not too dissimilar to table-top football.
The previously-seen Management Mode also makes a welcome return, though still offering a rather limited football management option, while online play offers gamers the chance to take part in a well-defined Interactive League.
FIFA 08 is almost like a different game on the PS2 when compared to other formats. It's fast-flowing, fun and right up there – if not better – than Konami's celebrated Pro Evo game. Although not as visually impressive as on the PS3 or Xbox 360, it still looks nice and – without doubt – is the most playable version of FIFA this year.
09-30-2007, 11:07 PM
Daniel
Posting Guru


Posts: 2,391
Joined: Jul 2007
Re: PS2: 'FIFA 08'
Got it on the 360 - it rocks!!!
09-30-2007, 11:09 PM
Re: PS2: 'FIFA 08'
Yeah it looks pretty impressive.
Tech support courtesy of
Budget Web Design
Powered By
MyBB
, © 2002-2019
MyBB Group
.