10-28-2007, 07:06 PM
soundlessenigma
Sun. Oct. 28, 2007 4:40 AM
I need to write. It's all that keeps me sane. I hope nobody minds. I know how annoying I tend to be.
Ugh. It's 4:40 and I can't sleep. My stomach hurts. Why don't I look for some medicine? Good point.
Done. It really sucks being totally dependent on KO pills. I only have one and of course I'd rather use it on a school night. Unfortunately the mail didn't come today so I didn't get the refill my mom sent.
The world is so dead. It's so cold and nothing's moving but me. It's peaceful.
Another lame day sitting here, trapped. I can't tell if I'm hungry or in pain. That's me, let's see what I managed... 4 peeps, oreo cake things, a granola bar, and trail mix. It's not like me to not even feel like eating nor intent on getting out of these four walls for any amount of time.
Idk. There are so many things I don't understand. Where are the answers?
I'm truly alone here. I can't control my mind. If I could control it I could at least learn how to communicate. Then everyone wouldn't see me as rude and maybe someone would like me and be a real friend. Though the meaning of friend is like the holy grail. I don't know if I can ever apply that label, and it weighs on me so much.
All around me are familiar faces
Worn out places, worn out faces
Bright and early for their daily races
Going nowhere, going nowhere
Their tears are filling up their glasses
No expression, no expression
Hide my head I want to drown my sorrow
No tomorrow, no tomorrow
And I find it kind of funny
I find it kind of sad
The dreams in which I'm dying
Are the best I've ever had
I find it hard to tell you
I find it hard to take
When people run in circles
It's a very, very
Mad World
Mad world

Children waiting for the day they feel good
Happy Birthday, Happy Birthday
And I feel the way that every child should
Sit and listen, sit and listen
Went to school and I was very nervous
No one knew me, no one knew me
Hello teacher tell me what's my lesson
Look right through me, look right through me
And I find it kind of funny
I find it kind of sad
The dreams in which I'm dying
Are the best I've ever had
I find it hard to tell you
I find it hard to take
When people run in circles
It's a very, very
Mad World
Mad World
Enlarging your world
Mad World.
The only thing that can put me near tears nowadays.
My ability to express emotion has long been dead.
I need to be stuck in an institution and trained up like a child or else this will be my life forever. I'm stuck, I'm stuck, help me, help me. I can't ask anyone for help. Nobody can help. I'm too weird. I'm too messed up. No drug can stop my brain from shutting down.
Now I guess I should try to pull some positives out of god-knows-where before I resort to god-knows-what.
Well I started writing my uber-secret novel again. I already made a chapter like a few months ago but now I'm starting again. I hope I actually get somewhere this time. I can't seem to keep going, I can't find any motivation for doing anything. I also picked up the guitar for the first time in months. I find that I need to correct myself all the way to the basics. 6 years and I'm just realizing. I'm incapable, incompetent. Any normal person would have done
something
by now. Yet here I am at the first steps. I suck, I suck at everything I do. And I can't have a conversation with people online! What's so difficult about initiating or responding, asking questions instead of hiding?
The division bell is ringing.
I shall, I suppose, post more of an introduction is you want. I realize I just kinda threw my burden upon everyone. Well, you'll learn to hate me soon enough.
Thank you for the welcomes, though I've been too chicken to respond.
10-29-2007, 05:54 AM
Re: soundlessenigma
Sun. Oct. 28, 2007 3:48 PM
I just want to post my only human contact today.
CaRe323P (2:20:26 PM): Is something wrong?
StarAstaroth (2:22:23 PM): it's so cold...
CaRe323P (2:22:51 PM): are you dong okay though? or is something wrong?
StarAstaroth (2:23:23 PM): weekends suck
CaRe323P (2:23:35 PM): Why?
StarAstaroth (2:26:32 PM): oh the usual...
CaRe323P (2:26:55 PM): your on one of your downward kicks again?
StarAstaroth (2:27:02 PM): I guess so...
CaRe323P (2:27:18 PM): Did something happen?
StarAstaroth (2:27:56 PM): I don't remember much...
CaRe323P (2:28:12 PM): Why?
StarAstaroth (2:30:31 PM): my mind is dead
CaRe323P (2:30:46 PM): ?
StarAstaroth (2:31:15 PM): so is life
CaRe323P (2:32:16 PM): Um, why is this?
CaRe323P (2:33:48 PM): ahme?
CaRe323P (2:33:52 PM): ahem*
StarAstaroth (2:34:03 PM): can't escape
CaRe323P (2:34:24 PM): I went home, there is nothing to escape to Clevelnad is sucky
StarAstaroth (2:38:07 PM): I don't want to be alone
CaRe323P (2:38:31 PM): You dont have a car still?
StarAstaroth (2:38:36 PM): no
CaRe323P (2:38:49 PM): Cant you have one yet?
StarAstaroth (2:38:55 PM): yeah...
CaRe323P (2:39:08 PM): You should bring your car..
StarAstaroth (2:39:15 PM): nowhere to go anyway...
CaRe323P (2:39:30 PM): hah, come here
StarAstaroth (2:41:36 PM): Im not worth it
CaRe323P (2:41:46 PM): Um, I think you are
StarAstaroth (2:41:54 PM): nah
CaRe323P (2:42:19 PM): Um, stop, your fine, and I think you would like it here
StarAstaroth (2:43:06 PM): what good is a boy who can't speak
CaRe323P (2:43:28 PM): A boy who I care about and miss.
CaRe323P (2:43:36 PM): If I didnt like you I wouldnt talk to you
CaRe323P (2:43:49 PM): You think amazing things, and I know someday you will write about it.
CaRe323P (2:44:02 PM): Someday youll help someone brett, I know you will
StarAstaroth (2:48:35 PM): everyone dislikes me
CaRe323P (2:48:49 PM): why do you think that?
StarAstaroth (2:49:20 PM): the way they always stare at me, or talk about me, or laugh about me in class...
CaRe323P (2:50:08 PM): So, they only laugh at what they dont understand....
CaRe323P (2:50:19 PM): You are a good guy brett
CaRe323P (2:50:27 PM): it is not you, they just dont get it all
StarAstaroth (2:52:05 PM): it hurts though to always freeze up or not even be able to have a conversation
CaRe323P (2:52:35 PM): yeah, but it will be okay.
CaRe323P (2:52:44 PM): Are you seeing anyone about it right now?
StarAstaroth (2:53:27 PM): I go to the counselor
CaRe323P (2:53:40 PM): Are they helping at all?
StarAstaroth (2:54:04 PM): not really I guess...
CaRe323P (2:54:24 PM): Are you still happy with Miami classes and things?
StarAstaroth (2:55:03 PM): I guess so...
StarAstaroth (2:56:09 PM): besides sitting here all day every day
StarAstaroth (2:57:14 PM): and feeling jealous... lol
CaRe323P (2:57:55 PM): jealous of what?
StarAstaroth (2:58:21 PM): everyone...
CaRe323P (2:59:06 PM): Why?
StarAstaroth (2:59:43 PM): I don't know sometimes... what they have that I don't I guess
CaRe323P (3:02:25 PM): I have to go
CaRe323P (3:02:27 PM): BE HAPPY
CaRe323P (3:02:31 PM): Youll be okay
CaRe323P (3:02:33 PM): MISS YOU
CaRe323P (3:02:35 PM): and LOVE YOU
CaRe323P (3:02:39 PM): Not kidding
CaRe323P (3:02:53 PM): Do love you and miss you...and if you ask why ill hit you =P
CaRe323P (3:02:58 PM): byes for now
Tell me, what am I supposed to be?
I can't just be happy when there's nothing left to smile about. Not has there been anything in the past to smile about. It's easy to say that things will be ok, that I'll find answers. But it doesn't mean a thing if I never get anywhere. I sacrificed my blood and my sanity, and here I am at age 20, no real personal connections, no job, no hope, no focus, no drive... depressed... no voice.
I don't know how I'm going to stand sitting between these same four walls every day for two more years...
I hate myself. I wish I could die.
10-30-2007, 01:37 AM
Re: soundlessenigma
Mon. Oct. 29, 2007

11:10 AM
The bad piles up when you're down. My mom called me last night to warn me that my clock would have set itself an hour back because of stupid daylight savings. Sure enough, it did, and I corrected it. But then I wake up to see that it did, in fact, change itself back. So I was late for class, which of course entailed a quiz which of course I couldn't make up. She said that it wouldn't count for much in my final grade, so... fingers crossed.
About me
I've never been diagnosed properly, so... go me. I'm positive I'm depressed and have social phobia BangHead The kicker is selective mutism, which pretty much flattens any attempt I've ever made at recovery. Does anyone here know anything about it :?:
So you'll have to forgive me, because I'm not good at carrying on a conversation, even online violent4 And I tend to whine a lot.
You can imagine how that isolates me, how I'm a founding member of the "sit alone at lunch" club.
It gets difficult sometimes because it's easy to get jealous at all the people who just live life ordinarily and here I am locked in my room.
What have I done - video therapy (on youtube), going to a counselor (they don't like me), medication, joining groups, blogging, cutting, and adam knows what else. The phobia goes, I can do more things now but the talking still doesn't happen and many times action.
Beyond the horizon of the place we lived when we were young
In a world of magnets and miracles
Our thoughts strayed constantly and without boundary
The ringing of the division bell had begun
Along the long road and on down the causeway
Do they still meet there by the cut
There was a ragged band that followed in our footsteps
Running before time took our dreams away
Leaving the myriad small creatures trying to tie us to the ground
To a life consumed by slow decay

The grass was greener
The light was brighter
With friends surrounded
The nights of wonder

Looking beyond the embers of bridges glowing behind us
To a glimpse of how green it was on the other side
Steps taken forwards but sleepwalking back again
Dragged by the force of some inner tide
At a higher altitude with flag unfurled
We reached the dizzy heights of that dreamed of world

Encumbered forever by desire and ambition
There's a hunger still unsatisfied
Our weary eyes still stray to the horizon
go down this road we've been so many times

The grass was greener
The light was brighter
The taste was sweeter
The nights of wonder
With friends surrounded
The dawn mist glowing
The water flowing
The endless river

Forever and ever
"Hey, is that Charlie? yes... Hello Charlie... great"
I feel better today. Weekends are awful, but that's the worse relapse I've had in a long time. I was lucky that I couldn't find my SI tool. The drive is wearing.
11-02-2007, 02:16 AM
Re: soundlessenigma
Thur. Nov. 1, 2007 11:49 AM
Lolol I was going to say happy halloween before the site asploded so happy belated halloween I guess stongue
I hope I haven't made everyone hate me yet, lol... it was probably the worst possible time for me to join. Sorry. I don't mean to be dramatic or whiny but I know that's what tends to happen, I am a writer after all :laugh: But it was a bad relapse... it happens.
Also I plan on becoming more active, I'm afraid of interrupting :lol: *twitch* Posting online tends to be synonymous with walking into a packed room.
I was looking through some old notes I wrote and amongst the poor poetic scribblings and angry rants of misery, I found this:
July 10th, 2007 was the day. For better or for worse, I will fight my demons until my dying breath escapes my lips. This monster will have to drag me into hell kicking and screaming, because I'm not gonna lay down and die. I'm tired of waiting for something, anything to come to me. I've learned some valuable lessons from all the seemingly negative instances in the past year. I don't want to change, to compromise with anger, I just want to be me. Though this day didn't go as perfectly as I wanted, I will continue trying. Hopefully video therapy will work as well for me as it did for others.

This is my word, written and signed on July 12, 2007.
Funny how the other side of the mind can retreat or assume control within the span of day. It's so hard not to relapse.
Someone today mentioned how we need to live today. It's tough to live today without stressing over the next deadline or the next grade. And it's no wonder why it puts us down. As soon as we mess one up then we feel the effects, yet if we succeed all we receive is another target. As soon as I got done taking a test today I was immediately analyzing how poorly I did and became distressed over the implications for my grade.
It's so easy to get knocked down by the surge of negativity while all the little positives get washed out to sea. Look, I've got someone who seems willing to give me the time of day, I've got someone on campus who gives me five minutes each week despite what I do, I've been in contact with someone new to me on Facebook, I've even revealed myself to the world in my videos and found another contact who knows what I've been through. And now I'm here.
There's no joy in hiding yourself and bottling up like I did for many years. And there's no glamor in standing up knowing you'll be judged on what you are. I didn't choose life.
Just thinking about going through the same routine for another year is enough... scheduling classes for next semester weighs me down. Now what I'd like to do is get out of here.
I can't help but feel jealous when I look at other people... and I feel so guilty. But why, what's the point?
It isn't easy to like me, let alone having to live with me everyday
I hope I've got hope back. Or else the sky will begin falling. Am I running in circles without realizing?
When we hit that point, when we get so tired that all we can do is stop and turn around and say "no more," we must hold on for dear life lest the wave of relapse comes back to destroy all.
Risin' up, back on the street
Did my time, took my chances
Went the distance, now I'm back on my feet
Just a man and his will to survive
11-04-2007, 12:43 PM
Re: soundlessenigma
Sat. Nov. 3, 2007 10:19 PM
Lol I'm glad the site is back for a little bit at least.
So, hmm. It's been a bit of a better weekend. I can't say why. It was a very stressful week and that stress will only continue, so maybe that's why.
I did some bad things again. Like last week I didn't even feel like getting out of my room to get food... by the time I forced myself to get up, most of the things were closed. It would help if the nearest dining hall served dinner on Saturdays. So I ended up eating Sunchips this time.
But on the other hand I did some good things that helped bump me from the grip of depression. I finally recorded another video. It's been two months since I've even talked directly to a camera. While I had to use an avoidance tactic (sunglasses), I did manage. I also called into Social Phobics Anonymous. The have a telephone conference three times a week, and I've been negligent on trying. It was scary. Phones are scary. I called and just listened. I didn't say anything or participate in any way, but I did call in =)
I think my problem right now is that I'm afraid of what the future holds. Hmm, I wonder what it would be like to know the future. Anyway, I think I realize that the life I live now is really stressful and kinda barren and I'm not getting much satisfaction out of it. I've always been one to think, "someday it will be different." In fact I never really pictured myself living this long. Yet now I can see myself living in the same situation forever. I don't want to end up emotionally broken and alone.
Yet I wonder if this life that I idealize and dream of is for me. You know how they talk about fate. Well, it would seem that I've fallen for what the media says my life should be. But I wonder if it really isn't meant for me. I'm quiet and I'm otherwise different. And is it really like we can't be happy if we don't conform? But on the other hand I guess every human being has a need for some sort of inclusion and acceptance. It's hard to understand if I should accept my position or keep BangHead for what I want. I've asked myself plenty of times why I'm not allowed to feel the simple joys in life. And now every day I watch my dreams and ambitions get closer to falling apart. But then again at the same time there are tons of other people who have a good life without experiencing this or that. Of course, I guess that in the end this is my choice and I know what I want - not to be a loner. So maybe it's not worth thinking about and getting sad over. Maybe it's worth the pain after all. Obtaining what we're not supposed to have... I think I fear failing. And not having the chance to go again. Maybe there's something to this identity vs. role confusion thing. I don't think I know who I am, honestly.
My goal for this week is to go to bed earlier. Even though I'm still taking my meds I feel like I'm having a harder and harder time falling asleep. And of course I'm still having difficulties staying awake and focused. I wonder if that's because I've become used to going to bed at like 1 after mindlessly watching tv.
11-07-2007, 07:14 AM
Re: soundlessenigma
Tue. Nov. 6, 2007 4:03 PM
I iz ok.
Sometimes I depress myself by listening to certain songs. But I can't help it! So beautiful...
My counselor is starting to edge me towards the difficult stuff... I wrote yesterday in a blog about how lucky I was, and I neglected to mention... It's hard going into all of these demons I've tried to pack away... I mean I'm lucky because for once... this is the first one who hasn't thrown me out because of my limitations. He lets me communicate by writing. So this is the first "professional" I've gone to see that has actually managed to get me to delve in that far... it still isn't easy, but... I don't know why I get to sit there playing with a Rubik's cube every week. I don't know how I can think about the bad memories and feel a little better about it, when I told him how stupid they were. I should have been stronger... shouldn't I...? I guess deep down I know that it isn't all my fault, but something must still be rippling on the surface... Maybe... I'll finally reveal... the most painful... memories.
I've got to get through this...
Well, I better be hitting the old dusty trails... lots of work. Including criticizing some of my classmates' writings. Oh dear... I wish myself luck, on participation. Speaking of which I haven't responded to my professor asking how I can be most comfortable working with others. I don't know what to do... it's kinda sad... not being able to just do it normally...
11-10-2007, 02:50 PM
Re: soundlessenigma
Fri. Nov. 9, 2007 11:31 PM
How may a man miss an object so? I long for the press of the cold finger on my skin, the red casing over numerous and perhaps useless appendages except for the one cold finger... you were a gift. Where iz you? I feel my mind unraveling in my ravenous want of your comfort, and yet you still elude my grasp. There was nothing like feeling the sudden warm drip, the life finally pumping through me, and the black of space was gone. Where have you gone?
I am losing my mind.
I hate the holidays. A cheap excuse for the country to revel in materialism while poking fun at those who lack the capacity to be satisfied by wants mistaken as needs. Being forced into the oppressive hand of an illegitimate religion! Cruel fate, why dost thou smile upon me? Reveal the unadorned love of the unlovable, the shiftless haunting of the spirits of the lonely! Bring families together, but please don't question my fortunes!
I see the light at the end of the tunnel, and it is that of an oncoming train! Together, we go off the rails, a crazy train and something less than society's man!
Man may question the pain of jumping in front of the bus and never know! How many pills does it take, and what's the effect? You may say that I am crazy, but to you I say I am naught but a dreamer. We may also ask the question,
what does it take to know true friendship
? Or must one be forced to live for oneself, betraying all the values instilled in him? Nay, perchance to dream. Ay, there's the rub, for in that sleep of death what dreams may come, when we have shuffled off this mortal coil, must give us pause. Whether 'tis nobler in the mind to suffer the slings and arrows of outrageous fortune, or to take arms against a sea of troubles, and by opposing, end them.
2b or not 2b?
Hey nonny, hey nonny, non...
11-11-2007, 03:56 AM
Re: soundlessenigma
Sat. Nov. 10, 2007 12:53 PM
Is there anything worse than peering through the looking glass, watching her walk away and being left behind?
They don't understand. They
can't
.
Life is nothing but a dream. A dream that will reach its end eventually.
A nightmare I must end.
Too cowardly.
11-15-2007, 01:40 PM
Re: soundlessenigma
Wed. Nov. 14, 2007 9:38 PM
I don't think I'll ever believe how close I came to severing my ties to this world. These past two days, though, were the best that I can ever remember. Now if only life can be like that - without having to worry about illusions and responsibilities.
The Samaritans may be a godsend. I may now owe them my life. If there comes a time when I can actually regret not fulfilling my plan this week, I've got to find a way to pay them back.
Phobias suck and I hope they all go die a slow, painful death. I keep looking forward to going farther into these sorts of things in my psychology class. As much as I criticize psychology, I must admit it has me trapped like a rat. It's like, talking about these things, all I can do is nod and smile and think, "yep, that's me!"
Sometimes I wish I could just make people understand how I feel. It hurts me when people suggest that I just need to go to another professional or get more drugs or get out more and then suddenly everything will be dandy. If that was the case then I wouldn't be in this situation. Maybe I'd have friends and such and I wouldn't have even let that thing cross my mind.
So much for putting myself first. Haha. What probably stopped me in the end was how it would effect my mom. I just couldn't bring myself to do that to her once things finally seemed to be going ok. Yes, it would have been so much easier if she didn't have to deal with me anymore, but still she'd hurt more if I had ended up having my way. That's parenthood for you.
I wonder if I'll ever have a real-life friend. Dammit. Why am I writing this? I'm making myself depressed again instead of just irate. Well, that person that called me a waste of space (in less appropriate terms) can go to hell. I just wish I had the courage to go track him down and give me a piece of my mind like he deserves. *******.
Lol, sometimes I wonder if I don't have Asperger's or something. It seems like aspects of extreme social phobia tend to intertwine... but I mean, me doing things like walking on my toes and crap like that, never being able to learn the school time schedule and things. I just took another online test:
Your Aspie score: 168 of 200
Your neurotypical (non-autistic) score: 23 of 200
You are very likely an Aspie
Wth mate!? I don't know if I'm just overestimating my answers because I know a little about aspies or what, but damn! I just wish I could be diagnosed with SOMETHING! Someone please tell me what the heck am I? A doctor once said I might suffer from childhood disintegrative disorder. I myself have typically diagnosed myself as selectively mute and extremely social phobic. But of course Asperger's tends to run comorbid with SM. I don't know if that would be good or bad to know that I'm an aspie or not, but it would just help me begin to understand! I don't really think I am because I never was diagnosed as autistic as a child - I can't remember being obsessed with lining things up or anything like that. But hey, the almighty doctors missed my SM...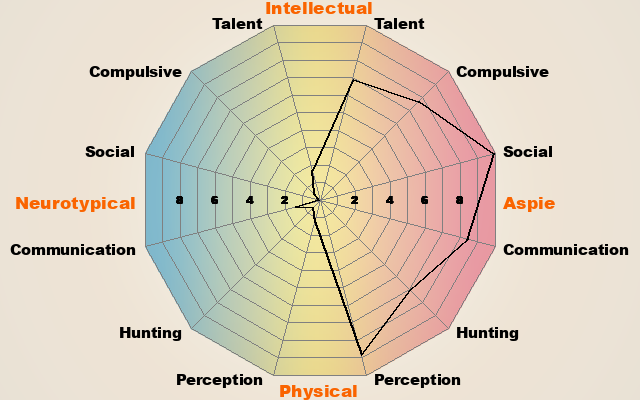 That was my pretty chart by the way if you wanted to see.
12-08-2007, 05:03 AM
labyssum
Posting Guru


Posts: 833
Joined: Oct 2007
Re: soundlessenigma
I'm glad to hear you're writing a novel! Thats brilliant. ;]
12-08-2007, 02:47 PM
Re: soundlessenigma
Heheh. More like letting it collect dust. I haven't even looked at it since then. !fail. I'll never be successful. I don't know how I'm gonna ever be able to take care of myself. There are more normal people out there than me who can't get going. I need to get better at writing, it's my only chance...
Fri. Dec. 7, 2007 11:06 PM
So... since I last checked in... It's been tough. There are so many things I don't understand.
Being isolated at school has caused me serious deterioration as evidenced in my last post. I get these ugly thoughts and I can feel so desperate to act on them and without self-injury to release... I had to do it anyway. A waste of two months "sober".
Someone told me I need to go home and take a break. I've decided that I can't do that. It won't get better there - it didn't change in twenty years so why would anything be different now? I know I'll just feel the same. The only difference is that I'll have pets and family to not feel lonely. But then I give up everything I've worked for. I'll never become independent. This is something I'll have to accept... I'll never have a normal career or a normal life.
Though I'd like nothing better than to get out of here...
I feel like I don't fit in anywhere. Whatever I am, I'm different. My brain just works differently. It seems no matter what I do, everyone abandons me. I don't know if I mentioned the closest thing I have to a friend... but we were supposed to meet over Thanksgiving break and once again it fell through... we haven't spent time together in a year. And she hasn't bothered to respond to me online since break. Ok, I understand, I'm not worth being around; I'm boring and uninteresting and I don't speak and I'm weird. But why do people have to put on this facade? Why can't they just tell me? Even online it seems like somehow I manage to make everyone dislike me. I try... but I don't understand how they manage to make friends so easily. And there's me, the closest thing I've got to socialization is listening to someone else's conversation.
And how do you treat me? How do you treat a mute? How do you treat an Aspie? How do you know which diagnosis is correct?
It's hard to believe that once I was young and I had all these dreams, normal dreams like any normal kid, and I can see it all slipping away...
I'm just glad that school's almost over. I don't know how I'm going to survive next semester... with 5 classes. The work stressed me out but I guess with more work I won't have so much time to be bored. Boredom leads to desperation. It's hard watching people who have everything I wish I could have - even on tv.
It snowed for the first time about two days ago. Ugh. It's so cold. I want to go somewhere warm.
Preferably without Christmas...
12-17-2007, 09:44 AM
Re: soundlessenigma
Sun. Dec. 16, 2007 6:42 PM
I know I deserve better than this one unfaithful friend that I have. I feel like I don't really hate myself so much after all, that when I think and hurt myself I do it not because I hate myself but to escape the loneliness and pain.
I guess that's a good step in the right direction :wink:
12-19-2007, 04:21 AM
labyssum
Posting Guru


Posts: 833
Joined: Oct 2007
Re: soundlessenigma
*BIG HUGS*. I can really relate. I used to hurt myself when I was really sick (with schizophrenia) and I still have bad scars...Not fun. I really hope you meet some more friends soon, and feel less lonely.
12-21-2007, 06:23 AM
Re: soundlessenigma
Yeah, I try... there is a person I wish was here right now, when I don't want to be alone, yet she doesn't even seem to notice me anymore... my only friend...

Thur. Dec. 20, 2007 3:19 PM
(on my psychiatrist appointment)

I got thrown for another loop.

I brought up Asperger's. Apparently the guy still thinks it is CDD and not aspergers or selective mutism.

I'm left with more questions than answers again.

I was ok until I read this:

"The outcome for children with childhood disintegrative disorder is usually very poor, and even worse than for children with autism. The loss of language, cognitive, social and self-care skills tends to be severe and permanently disabling. As a result, children with the disorder often need residential care in a group home or long term care facility."

And I completely broke down, because that's the worst thing I could ever hear... I'd rather die than be consigned to that...

I don't want to believe it...

He says that if I had Asperger's it would always be apparent. Well, that was what I was thinking too, and that's why there was doubt. But it isn't like he knows everything about me, just what my mom told him and she showed me that she doesn't know the whole story either. So I guess I feel a little better now...

My mom doesn't think I have either, she just thinks it's SM now. She doesn't think I'm clumsy or have issues understanding language, or my body language (and she based that on how I'm sitting now, well it is much easier to sit still and sink into the couch here away from stress. That doesn't mean I'm completely still just because I was still when she was here.). Yes, I think CDD would explain why all of a sudden I lost all ability to play sports, why my muscles always hurt for no reason, and why I haven't really gotten better... I'm still desperately clinging to Asperger's though...

If it is CDD then I have no possibility of getting better - and I'd rather be dead.

I just get so depressed... I wish there was someone to talk to, someone who understands...

Someone with answers...

He prescribed me Wellbutrin. Go figure, more medication to numb me but nothing that can actually help me...

My mom says she's going to search for someone who knows about SM. And she'll get some books...

Speaking of her, we are two fools living though this wretched life for each other. What is this, some sort of morbid Gift of the Magi?

So she understands depression, but that doesn't mean she doesn't understand what causes it in me. She acts like I don't try to speak, that I don't try to get involved at school. I do! I try so hard, I get stressed from trying and depressed from trying... If I didn't try I wouldn't be here...

The mall is not a place you wanna go right after seeing a psychiatrist. Of course, we didn't have a choice because I had to pick up my new glasses, but... you just feel so alone. Yesterday my mom went into Aeropostale and I just got the sensation that I didn't belong there. Yeah, I have an Abercrombie shirt - I got it at Plato's Closet! Let alone standing alone in FYE for two hours while she browses. And then she stops to yell at me for being difficult and lectures me on getting through it, trying etc.

I was up there yesterday watching my sister's concert and it really sucks to sit there alone unlike everyone else and then being introduced as "doesn't talk". All I'd like is to not feel this empty loneliness, yeah? Actually experience happiness...

Does my mom know she's the only reason why I'm still alive?

Anyway, the doc threatened in-patient/out-patient on me if I hurt myself again. Which I was thinking of carving up my arm tonight until I broke down. I share the fear Esther Greenwood had about being locked up. I'm most afraid of what the future may hold, though.

At least my mom has a friend who came to her aid. Me? My only real-life "friend" would have let me die. That's the truth, sadly. She said she couldn't help me when all I wanted was someone to talk to. She let me start hurting myself. Now you know why I'm so confused about her.

I've been sleeping a lot lately. And I've been strangely starving, no matter how much I eat. But at the same time I've head stomach pains and headaches everyday. So I've been slurping down a cocktail of aspirin and acid reducers along with everything else. I'm also finding it really hard to take interest in anything... I've managed to type a few bad sentences into my project and done a little sign language but that's it.

Oh yeah, I started teaching myself sign language. Right now I feel like I never want to speak again.
12-21-2007, 08:29 AM
labyssum
Posting Guru


Posts: 833
Joined: Oct 2007
Re: soundlessenigma
"Does my mom know she's the only reason why I'm still alive?"
...Wow. I feel exactly the same way. The only real reason I don't commit suicide is because she's here, I don't want her to go through that.
I really hope things get better for you. And I hope you stay in good (better) health. I hope you have a lovely Christmas.
Tech support courtesy of
Budget Web Design
Powered By
MyBB
, © 2002-2018
MyBB Group
.