Spice Girls play Victoria's Secret show
10-11-2007, 03:48 PM
Spice Girls play Victoria's Secret show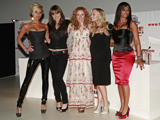 The Spice Girls have signed up to make their first American television performance during the Victoria's Secret Fashion Show in Los Angeles.
The reformed five-piece will perform during the show, which starred 'SexyBack' singer Justin Timberlake last year, at the Kodak Theatre in Hollywood on November 15.
A source told US magazine that the Spice Girls "are rehearsing for it already. It's going be their big comeback appearance."
The show will be aired on CBS, while the girls' world tour starts in LA in December.
Tech support courtesy of
Budget Web Design
Powered By
MyBB
, © 2002-2019
MyBB Group
.