Wii - New way to keep fit
05-03-2008, 05:56 AM
Wii - New way to keep fit
[center]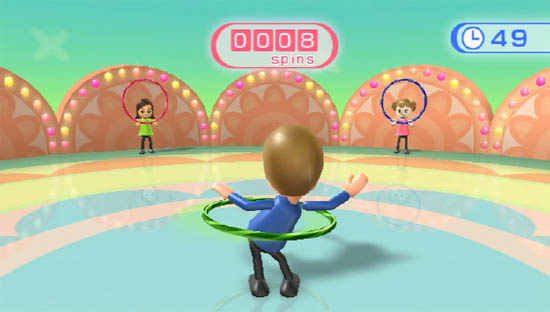 [/center]
This highly publicised exercise-based video game is all ready to compete with the release of next week's epic Grand Theft Auto IV in the race to top one million sales.
Both are enjoying mainstream exposure, but Wii Fit is certain to have more widespread appeal as it is selling to both gamers and the hugely lucrative weight loss market.
Although expensive at £69.99, you receive for your money a copy of Wii Fit and the all-important, and very sturdy peripheral, the Balance Board. Nintendo also supplies four AA batteries to operate it, and one firm has already launched optional rechargeable batteries for the unit.
When you first switch on, you'll find yourself creating your own profile by using one of the built-in Miis, creating a new Mii or by playing as a guest.
After that, you are asked to partake in a Body Test. Here you enter your birthday and height before standing on the Balance Board, where the game will then record your weight and calculate your Body Mass Index, informing you whether you're Ideal, Underweight, Overweight or Obese.
For all those self-conscious people out there, the game thoughtfully holds back from displaying your weight on screen to stop other people in the room from seeing it. If you don't mind, however, a quick press of a button and it will be shown.
After that, you then move on to the balance tests. The game will ask you to perform various tasks, such as moving your weight from your left to right leg or standing steady on one leg, and it will calculate your Wii Fit age using all the data it has collected about you.
While this may appear extremely clever, and it probably is, the answers it gives are a little questionable. One day I had a Wii Fit age of 42 and the next day, due to being better at the balance tests, this had reduced by 15 years.
Whether you choose to believe the results or not is down to personal choice, but there's no denying that it is a great deal of fun to compare your Wii Fit age with friends.
As you move on to training, you'll find the game keeps track of your Wii Fit age, allowing you to follow your progress in an attempt to reach your overall goal.
Four categories and more than 40 games are featured in the training section, including Yoga, Muscle Workouts, Aerobic Exercises and Balance games. According to Nintendo, performing them regularly will tone your muscles, improve your posture, burn fat and improve your balance. How true this is, however, only time will tell.
At first, fewer than half of the exercises are available. The others are unlocked as you spend more time exercising, therefore cleverly encouraging you to keep going by dangling a carrot.
Yoga has you stretching your body, while the muscle workouts involve using the Balance Board to perform press-ups, lunges and more. All are very physical and certainly bring on a sweat, but, ultimately, they are also very much akin to going to the gym and, as such, boredom can set in when the novelty of the Balance Board evaporates.
Aerobic exercises are good fun, such as jogging, where you jog on the spot and use the Wii Remote as a pedometer. In the game, your friends will even wave at you as your on-screen Mii jogs past them.
Ultimately, however, the Balance games are by far the most fun as these are more like playing a real video game, only using exercise as a controller. One involves heading a football, for example, which sees you lean left or right in order to move the on-screen player's head.
The Balance games make for a truly fun and innovative experience which you'll come back to time and time again. There are also jump exercises, a ski slalom and a flying penguin game to enjoy in this section.
Wii Fit can also be enjoyed by a group of friends, though not simultaneously, but as most of the exercises are quite short even the most impatient will find that taking turns is still a fun experience.
Despite its high price tag, Wii Fit is going to be a huge success. The fact that you can track your progress means it's a fantastic way of burning up fat and allows you to create a goal that you work towards, making you return to play it time and time again.
While its results are somewhat questionable at this stage, the fact that this is a video game where both the young and old are encouraged to exercise using novelty-fuelled games must be applauded.
It's undoubtedly much better than going to the gym and, despite its £70 price tag, it's also a lot cheaper than the average yearly membership.
05-03-2008, 07:05 AM
BlackLily
Posting Guru


Posts: 3,491
Joined: Dec 2007
Re: Wii - New way to keep fit
I am giving my Wii to my brother for his 7th birthday tomorrow & buying him a few games to go with it, but after I move I'm going to buy another one for myself with the Wii Fit. It's supposed to be really good & actually work!!!!
---
[center]

"Black flowers blossom, Fearless on my breath. Teardrops on the fire, Fearless on my breath"





Massive Attack - Teardrops

[/center]
05-04-2008, 12:16 AM
Irate.
Member


Posts: 113
Joined: Apr 2008
Re: Wii - New way to keep fit
i was reading up on this a few days ago on another site.. i love the wii, my bro has one and i'm forever borrowing for the odd few nights, i'm almost certain his wife will be getting the wii fitness game, she loves that kinda stuff
---
[center][img]http://img222.imageshack.us/img222/6218/freddyme3.png[/img][/center]
05-12-2008, 02:03 AM
Re: Wii - New way to keep fit
Has anyone tried it yet? I have heard lots of people say it's really good and makes you ache like crazy. I can't believe we now have video games that can keep you fit.
Tech support courtesy of
Budget Web Design
Powered By
MyBB
, © 2002-2020
MyBB Group
.